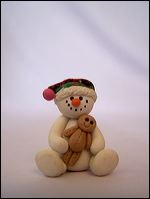 Kevin Clay – Funny, Nice, And Unique Clay Handicraft
Clay is one of important materials to create handicraft products as souvenirs, interior, etc. This material is found a lot in Indonesia land. There are many handcrafter use clay to create the art products. Beside it's easy to be formed, clay also durable for enough times.
Clay handicraft products also have wanted by a lot of people in the world. It because its unique material and beautiful products. This funny, beautiful, and unique handicraft product of clay is very ideal to put in bedroom or living room.
Indonesia is very famous as the biggest state in the world as the producer of handicraft product, including clay handicraft product. Every province of Indonesia presents various handicraft products and wanted by all of people in the world.
Kevin Clay is one of Indonesia's handicraft producers that present its unique, funny and beautiful products of clay. It is located in Surabaya city, East Java, the famous area in craft. Kevin Clay has visited by many visitors and clay product collector, because its various interesting products.
Kevin Clay offers doll miniature, souvenir of clay, and many more great clay products in various funny formed such as, animals, human, plants, cartoon, dolls, baby, toys, etc. These products that in different forms designs and colors all of which are enchanting, can be used as decorative, corporate gifts, etc. All products are made beautiful through various coloring and beautiful packaging.
Various designs and colors still become Kevin Clay main product that customers love forever. You can prove the quality of Kevin Clay products by coming directly to the place where it makes the products.
Kevin Clay products are made using the best clay material and are very durable. All products are handmade available in hundreds of choice. No pieces are the same; each has a unique and nice shape and size, which has been designed in by the crafter using his imagination.
Your complete satisfaction is the most important for us. Visit Kevin Clay and prove it by yourself, how the products will become your best choice.
Click This Picture...