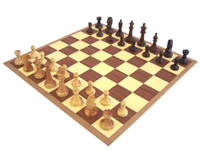 The Best of CHESS Manufacturer on Here !
Java Wooden Chess Sets is product of wooden chess that made of Javanese craftsman. This handmade product is made of some wood like; sonokeling, sawo, waru, and the others. Wooden Chess is made based on international standard. It usually exported to abroad in good service and good quality.
A set of chessman is 32 pieces covering 16 pawns, 4 Rooks, 4 Knights, 4 Bishops, 2 Queens and 2 Kings. Wooden Chess products have been applied in some advance nations like USA, Canada, Europe, Australian and other states.
Beside chessman, Wooden Chess also presents the other product that is chessboard. Chessboard is square and flat, consists of 64 checks, 32 black checks and 32 white checks. Same with its chessman, Wooden's chessboard has made by crafting hand made. This wooden chessboard is produced to equipped the chessman.
Click here Photo Products